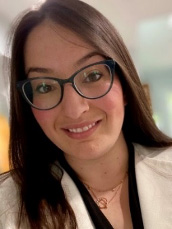 The Jewish Family Service of Somerset, Hunterdon, and Warren Counties Board of Trustees is pleased to announce that it has named Shaina Sherman, MSW, LSW as our incoming Executive Director, succeeding retiring Executive Director, Jerry Starr, effective August 1, 2022.
Shaina has devoted her career to supporting and empowering vulnerable people including those facing food insecurity, Holocaust Survivors, Family Violence survivors, and at-risk youth. Her personal values are very much aligned with those of JFS, and she looks forward to leading the talented staff and dedicated board in their mission to preserve and strengthen quality of life for those of all backgrounds with renewed energy and a focus on dignity, inclusivity, and respect. Outgoing President and Co-Chair of the Search Committee, Alex Marcus, stated "Shaina is the perfect person to build on the success of her two predecessors, Tova Freidman and Jerry Starr and ensure that JFS is a leader in the social service community meeting the needs of those seeking our help".
Prior to joining JFS Shaina worked for the Jewish Federation of Somerset, Hunterdon, and Warren Counties as the Campaign Manager, at the American Jewish Joint Distribution Committee as a Development Officer and as the Director of Volunteer Services for Metropolitan Council on Jewish Poverty. She also worked for The Partnership for Jewish Learning and Life in Greater MetroWest NJ as the Service Learning Coordinator.
Shaina holds a Masters of Social Work degree from Rutgers University with a certificate in Aging and Health and was a Rutgers Fellow in Aging. As part of her commitment to personal and professional growth in the nonprofit sector, Shaina is the Immediate Past President of New York Association for Volunteer Administration. She is currently pursuing a Certificate in Fundraising through NYU's School of Professional Studies.