2021 Sponsor Letter
Dear Friend,
See This Year's Sponsors Jewish Family Service of Somerset, Hunterdon and Warren Counties (JFS), a 501(c)3 non-profit, non-sectarian social service agency providing mental health and career counseling, volunteer services, home visits to seniors and other services to those in need. We are seeking your support in 2021 to raise critical funds to support the programs and services of the agency. In 2020, we had over 25 sponsors and we're hoping you will join our family of sponsors in 2021.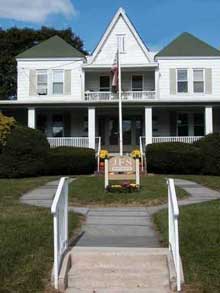 We respectfully ask that you consider becoming a supporter of JFS in 2021 by selecting one of the sponsor levels on this form. Your support of JFS will directly help our efforts to strengthen the community.
Your generosity will help JFS to provide programs and services that are strongly humanitarian in nature and include support of the elderly, Holocaust survivors, the unemployed, children and families at risk and those with emotional distress due to personal loss, relationship issues and other problems.
Our services are available to everyone in the community, regardless of their religion or financial status. Services are offered on a sliding fee scale or at no charge depending on circumstances. No one is turned away for lack of funds.
We are hoping you will join with us in our efforts to raise funds for this critical resource in our community. In the past, we have requested support, event by event, asking for sponsorship. Instead of continuing that, we are now giving you the opportunity with one request to become a sponsor of JFS for the entire year.
Become a Sponsor! By becoming a sponsor of JFS, we will acknowledge your business on our web site, in our monthly e-newsletter and Facebook posts for the entire year and publicize your sponsorship at all community programs and fundraising events held in 2021. Although we are still in the midst of the coronavirus pandemic we do plan on having several events in 2021 and they will be either in-person or virtual depending on circumstances. Our electronic communications reach 1,000 local residents of the community.
The JFS Sponsor Form lists the different sponsorship levels. We would be both pleased and extremely appreciative of your support through your sponsorship of the work we do. Please contact us on 908.725.7799 if you have any questions about sponsorship.
We look forward to your support in the coming year and thank you for your thoughtful consideration.
David Singer, Chairperson, Sponsorship Campaign
Jerry Starr, LCSW, Executive Director