February 2023
Dear Prospective JFS Sponsor,
See This Year's Sponsors As someone who sees the value and necessity of an organization like JFS, we'd like to provide you the opportunity to become a 2023 Sponsor. As we start 2023, we are seeking your support so we can continue to provide mental health and career counseling, volunteer programs, home visits to isolated older adults, special needs support programs and other services to those in need. We have over 30 sponsors each year, and invite you to be a part of this esteemed group of supporters of our agency.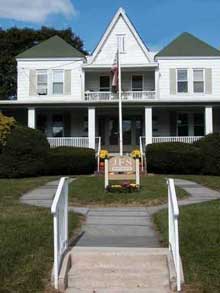 Your generosity will ensure the most vulnerable and isolated seniors feel connected, safe, and nourished through our comprehensive senior services. Your generosity will empower neurodiverse young adults to thrive in social settings, as well as over 300 volunteers across our tri-county region to make a difference on a daily basis.
JFS is proudly a 501(C)3 non-profit social service agency and our services are available to everyone in the community, regardless of their background, religion or financial status. Services are offered on a sliding fee scale or at no charge depending on circumstances, and we are recognized and appreciated for our creed that no one is turned away for lack of funds. Your generosity allows us to stand out amongst our fellow community-based organizations.
Become a Sponsor! We are hoping you will join with us this year in our efforts to raise funds so we can continue as a critical resource for our community. As a 2023 Sponsor, we will acknowledge your business on our website, in our monthly e-newsletter, social media accounts, and publicize your sponsorship at events as outlined on the included form. Our communications reach close to 2,000 local residents on a regular basis, 50+ community partners and fellow non-profit agencies, and we continue to expand our reach. Additionally, we hope to develop new opportunities for collaboration with our sponsors and welcome the opportunity to discuss how we can work together in 2023 to meet the needs of your business.
Click here for a JFS Sponsor form that lists the sponsorship levels. We would be both pleased and extremely appreciative of your generosity as a 2023 JFS Sponsor. Please fill out the form and send it to us by Friday, March 10, 2023, or feel free to contact us at 908-725-7799 and we can guide you through the sponsorship process.
We look forward to your support in the coming year and thank you for your thoughtful consideration.
Thank you,
David Singer, Esq., Vice President & Chairperson
Shaina Sherman, LSW, Executive Director