Family Mentor Program
The Family Mentor / Senior Friendly Visitor Program is designed to provide in-home support, information and advocacy primarily to Somerset County Families. There is a special focus on families with children under the age of 10 and frail, isolated older adults. It addresses the needs of families that are feeling overwhelmed, by promoting strengths and capacities within the family unit by matching a trained community volunteer with each family.
The program supports the family's ability to successfully address challenges, rather than focusing on problems. The Family Mentor / Senior Friendly Visitor Program's major outcome is the promotion of emotional health of children and adults. The program is free of charge and open to the entire community, regardless of religion or cultural background.
Community volunteers from all walks of life are recruited and screened to become "Family Mentors". Volunteer mentors are specially trained and supervised by licensed clinical social workers. Once the volunteer is "matched" through a joint home visit between Program staff, the family and the volunteer, families have an opportunity to develop a personal relationship with their mentor and receive information, modeling, support, and advocacy to optimize the family's functioning.
The Mentor arranges for home visits at convenient times and with the family plans activities based on goals the family establishes. The Mentor visits weekly for 1-3 hours during the first 3 months, and as arranged and appropriate during the next 9 months (generally at least bi-weekly) and by phone as needed.
Mentors and families identify activities that support modeling of new behaviors for the family, participating in community events and activities with their mentor, and with other families participating in the program. Program staff are available to the mentor to triage any areas of difficulty, brainstorm activities which support family growth, identify community resources, and coordinate monthly meetings between all volunteer mentors for shared learning.
For more information about the Family Mentor Program, please contact Kate Gullo at kateg@jewishfamilysvc.org or 908-725-7799 x107.
This program is partially funded by the Somerset County Board of Chosen Freeholders.
Expanding Horizons Special Needs Program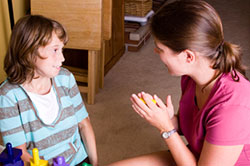 Supported by the Nancy L. and Arthur E. Lee Family Fund for Special Needs, Jewish Family Service offers the following programs and services to special needs children and their families:
Social Skills Learning Group — A 10-week program for youth ages 11-17 diagnosed with Asperger Syndrome or other social skills disorders. This group is focuses on social, relationship and communication skills for youth struggling with peer relationships.
Sibling Support Group — A group for brothers and sisters of children with special needs. Meet other siblings who have similar experiences in a relaxed atmosphere.
Parent Support Group — A monthly group for parents with a special needs child. An opportunity to come together with other parents who share similar experiences of parenting.
Social Club for Young Adults — A group for those 18 and older who are seeking to improve peer relationships and are looking for opportunities to socialize, practice skills, and share experiences in a relaxed, supportive and fun environment. The group meets weekly on Zoo plus 1x/month in person in the community. It is designed especially for those on the autism spectrum or with developmental disabilities.
For more information about the Special Needs Program, please contact Kate Gullo at KateG@Jewishfamilysvc.org or 908-725-7799.
All JFS Special Needs Programs have a modest fee with scholarships available, with additional support from PSE&G Foundation and Janssen Pharmaceuticals, Inc.