The Jewish Family Service of Somerset, Hunterdon, and Warren Counties Board of Trustees is pleased to announce that it has named Shaina Sherman, MSW, LSW as our incoming Executive Director, succeeding retiring Executive Director, Jerry Starr, effective August 1, 2022.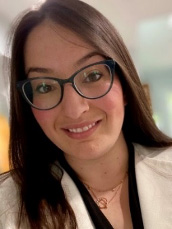 After an extensive search and interview process executed by a search committee of the Board, Shaina emerged as the ideal candidate for the position.
Shaina has devoted her career to supporting and empowering vulnerable people including those facing food insecurity, Holocaust Survivors, Family Violence survivors, and at-risk youth. She is committed to bringing her experience in community engagement, strategic partnerships, and organizational development to JFS to best serve our neighbors in need in Somerset, Hunterdon, and Warren Counties. Her personal values are very much aligned with those of JFS, and she looks forward to leading the talented staff and dedicated board in their mission to preserve and strengthen quality of life for those of all backgrounds with renewed energy and a focus on dignity, inclusivity, and respect. Upon making the announcement of the new executive director, outgoing President and Co-Chair of the Search Committee, Alex Marcus, stated that "Shaina is the perfect person to build on the success of her two predecessors, Tova Freidman and Jerry Starr and ensure that JFS is a leader in the social service community meeting the needs of those seeking our help".
Prior to joining JFS Shaina has worked for the Jewish Federation of Somerset, Hunterdon, and Warren Counties in the positon of Campaign Manager, at the American Jewish Joint Distribution Committee (JDC) as a Development Officer. In addition to serving as a liaison for individuals and communities across North America, Shaina introduced people of all ages to JDC's mission of global Jewish responsibility. Before JDC, she was the Director of Volunteer Services for Metropolitan Council on Jewish Poverty (Met Council) and connected over 1,400 volunteers each year to capacity building roles at the New York City based social service agency. Shaina worked closely with partners in all five boroughs to augment the services provided to 200,000 clients through volunteer engagement. She also worked for The Partnership for Jewish Learning and Life in Greater MetroWest NJ as the Service Learning Coordinator where she inspired youth and teens to apply Jewish values of tzedakah (charity/justice) and mitzvot (good deeds/commandments) to their everyday lives.
Shaina holds a Masters of Social Work degree from Rutgers University with a certificate in Aging and Health and was a Rutgers Fellow in Aging. As part of her commitment to personal and professional growth in the nonprofit sector, Shaina is the Immediate Past President of New York Association for Volunteer Administration, a networking group for nonprofit professionals. She is currently pursuing a Certificate in Fundraising through NYU's School of Professional Studies.
JFS of Somerset, Hunterdon, and Warren Counties serving the community since 1980 is committed to strengthening the quality of individual and family life and provides a continuum of programs and services toward that end. Licensed clinical social workers provide individual, couple and family as well as geriatric assessments, supportive counseling and case management services for homebound elderly. The Family Mentor Program recruits, trains and matches volunteers with vulnerable young families, as well as with elderly persons for friendly, supportive, in-home visits. The Senior Shopper Program provides grocery-shopping services for homebound elderly. Families with children with special needs are assisted through social groups, parent groups and through the Family Mentor Program. Career Counseling helps individuals in many aspects of their job search. Ohr Tikvah-Light of Hope Jewish Healing Services offers presentations, support groups, and individual spiritual counseling to address the health, wellness and healing needs of the community. All information is confidential. Many programs are at no cost, on a sliding fee scale or payable through third party insurance. If you are interested in learning more about JFS programs, volunteering or want to make a donation please contact us at (908)725-7799 or Admin@JewishFamilySvc.org, or like us on Facebook. Jewish Family Service of SHW, Inc. 150-A West High Street, Somerville, NJ 08876.